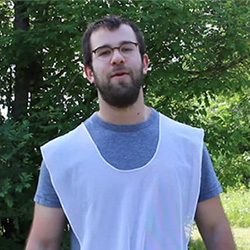 Daniel Gofine
Rosh Mosh
Shalom Eidah Gimmel! Hey Moshava!!
My name is Daniel Gofine, and I am so excited to be returning this summer as Rosh Eidah Gimmel! First, a little bit about myself: Upon graduating high school, I studied at Yeshivat Har Etzion and served in the Givati Brigade of the Israeli army. I'm currently majoring in psychology and minoring in business at Yeshiva University. Having grown up in Moshava and acting as a madrich for three summers, I know how amazing and unique camp is. Having been Rosh Eidah Gimmel last year, I know how much fun Eidah Gimmel is—the trips, the Blue Jays game, the overnights, the night tochniot, Megamot and, so much more. I can't even tell you how much I'm looking forward to camp and to meeting all of you!
In fact, I'm so excited about meeting all of you that I don't want to wait for camp. Please feel free to get in touch with me at d.gofine@gmail.com with your questions, comments, thoughts and suggestions. Together, I know we can make Eidah Gimmel amazing! Already looking forward to an awesome summer, and cant wait to see you at the busses!
Daniel