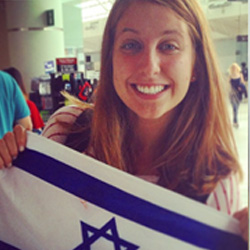 Keshet Eklove
Rosh Avodah
Hey Avodah!
Hi everyone!! My name is Keshet Eklove and I couldn't be more excited to be this summer's Rosh Avodah! Let me introduce myself: After growing up in Toronto, this past summer I packed up my bags and made Aliyah! I am currently doing Sherut Leumi (National Service) in Gush Etzion, and totally loving it.
After spending a summer at Moshava as a chanicha, I knew I needed to go back and be on tzevet. I had three awesome summers as Tzevet, the last one as a madricha in Avodah. I loved Avodah so much that I just knew I had to be Rosh Eidah.
Avodah this summer is going to be awesome!! We have incredible trips—3 day extravaganza anyone?— and amazing hadracha opportunities planned! As the oldest eidah in camp, I hope you you all bring your A-game with leadership and ruach. Be prepared for a summer you will never forget! And if you want to help me in the preparations, get in touch! I want to know all of your comments, thoughts, questions and suggestions—email me at kesheklove@gmail.com !
I'm counting down the days and I hope you are too!!!! Get ready for a summer you'll never forget!