Eidah Bet One 2016 / 5776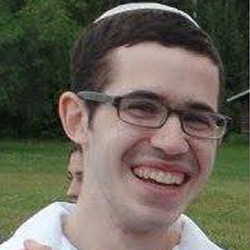 Daniel Safran
Rosh Eidah Bet 1
Shalom Eidah Bet 1!!! I'm Daniel Safran (a.k.a. TinTin, Safronius, That Chinuch Guy), and I can't wait to meet you all this summer as your Rosh Eidah! As we count down the days until I greet you in camp, I'll tell you a bit about me: Bnei Akiva and Camp Moshava have helped make me who I am today, as a chanich (camper) to madrich (counselor), to sgan rosh eidah and then 2 years on the Chinuch crew at Moshava!
When I'm not studying Torah, hanging out with friends, learning Graphic Communications at Ryerson University, searching my house for mint chocolate chip ice cream or practicing my frisbee throw, I am probably adding things to my list of Amazing Things to Do This Summer at Camp (it's a reeeeaaallly long list, and includes trips, overnights, and big surprises)!!! That's my job as Rosh Eidah: to do what my best to make this summer the best, most amazing, super summer yet for all of us– from mifkad until layla tov (following a great night tochnit)! So what are you waiting for? Get EXCITED for what I BET will be the most amazing summer ever at Moshava Ennismore!!!
Oh, and I almost forgot– I really want to know what you're excited for this summer! Email me at safran.daniel@gmail.com with your name, and anything you want to tell me: a cool video, any questions, ideas or concerns you have– let's start talking!
See you soon!
Daniel